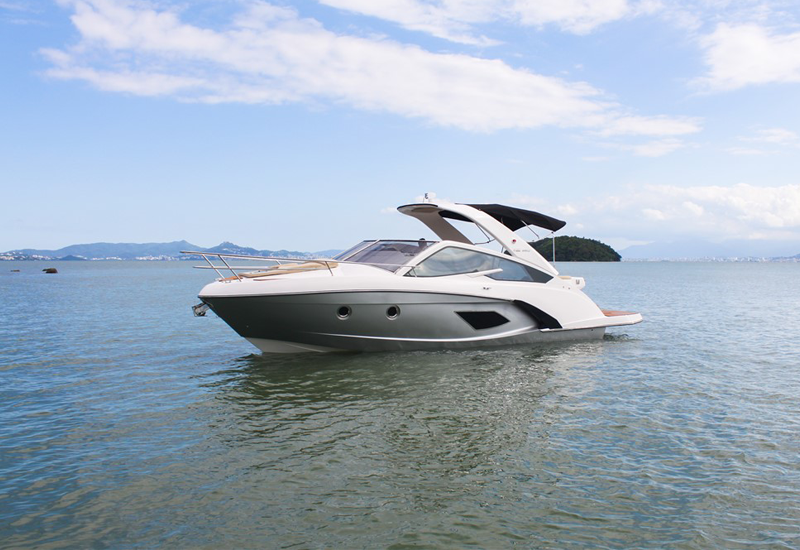 FS 320 ELITE
To satisfy the most demanding ones
The FS 320 Elite is FS Yachts boatbuilder's top-of-the-line boat.
Imagine a motorboat that stands out for its unique design and offers a comfortable deck space for 14 people during the daytime, a cabin with a ceiling that is 1.91 m high, a galley, a complete bathroom, and 3 single beds (convertible into 2 double beds).
Imagine a watercraft that besides offering more than comfort on board, presents the flawless finish of the FS Yachts' motorboats.
Stop imagining and come see the new FS 320 Elite.
Every single space designed for you
There is a great advantage in making boats for more than 15 years: we know our customers thoroughly and we know what is required for a boat to ensure our customers' satisfaction.
The FS 320 Elite features a full gourmet area, which includes a sink with tap and a charcoal barbecue with a wooden board, all strategically positioned on the aft platform, which, by the way, is the largest swim platform on boats within the same category.
The vessel's deck favors on-board people flow without stumbling and allows easy access to the cabin as well as the bow, where you can sunbathe on two comfortable beds located above the cabin.
The cabin is dynamic and it is remarkable for its ceiling height (1.91 m), where the highest ones can stand upright. It allows easy access to the bathroom, which features an electric toilet, trash can, washbasin w/ tap, cabinet, shower, and window w/ opening. The cabin has plenty of space for peoples' accommodation, including 3 single beds, convertible into 2 double beds.
A dynamic and modern boat, just like you.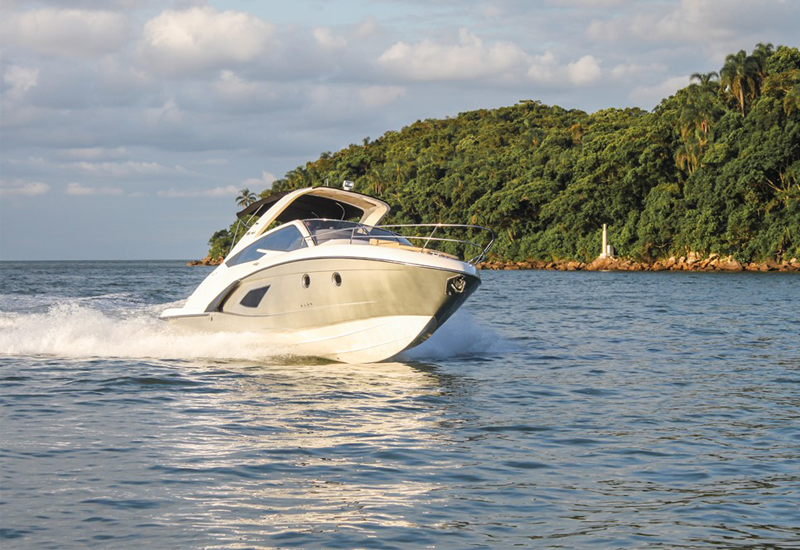 Technical specifications
Category
Boat Type: Cabin motorboat
Category: Motorboat for recreational use and jaunt
Boatbuilder: FS Yachts
Manufacturing site: Biguaçu – Florianópolis metropolitan area/SC
Engine
Engine type: Sterndrive (single or twin)
Minimum power: 340 HP
Maximum power: 500 HP
Fuel: Gasoline or Diesel
Average fuel consumption at cruising speed: 35 to 60 liters per hour
There are several options of sterndrive engines homologated by the boatbuilder for the FS 320 Elite
We suggest that the boat's engine is chosen according to the availability of authorized maintenance workshops in your location (preferably, an FS Yachts local dealer) and its power suits its intended use (freshwater calls for more power, for example).
Dimensions
Length: 9.82 m
Maximum beam/breadth: 2.82 m
Height, on the trailer (tower included): 4.00 m
Draft: 0.70 m
Hull weight, with no engine: 3,000 kg
Ceiling height, inside the cabin: 1.91 m
Capacities
Fuel tank capacity: 350 Liters
Freshwater tank capacity: 150 Liters
Passengers, daytime: 1 crewman + 13 passengers
Passengers, overnight: 3 single beds or 2 double beds
Estimated fuel consumption of the FS 320 Elite with the most cost-effective engine: Twin 4.3 L, 220 HP MerCruiser (consider that the ideal cruise speed is within 2,500 – 3,500 RPM): (the following consumption corresponds to one engine).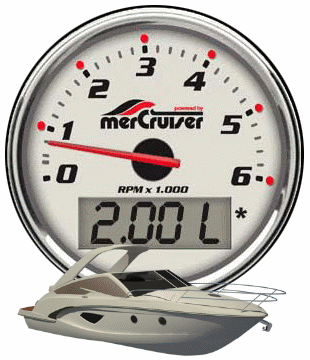 Serial Items
Hull & Deck
Mirrored glass cabinet, in the bar
PU-coated cooler
Deck table made from teak wood
Pilot dashboard
Lockers under the cockpit seats
Anchor stowage at the bow
Fiberglass and tempered glass windshield
Swim platform integrated with the deck
Stainless steel cockpit accessing door
Mirrored, tempered glass on both sides of the cockpit
Extended aft deck
Cockpit upholstery
Double cushion at the bow
Folding pilot seat
Leather-like vinyl upholstery w/ mildew protection
Copilot sunbathing chaise longue
Metalware
Stainless steel anchor roller
Stainless steel cleats (6)
Stainless steel 4-step stern ladder
Stainless steel foredeck guardrail
U-Bolts (3)
Stainless steel rub rail
Hydraulic & Electrical
External freshwater refilling
External refueling
Perko master switches for 2 batteries
Shower at the stern
Light switches on the dashboard
Top light
Courtesy lights in the cockpit
Side navigation lights
Electrical panel and 12-V wiring harness, ready for 110 V
150-liter freshwater tank
350-liter fuel tank
Engine room
Battery compartment
Engine room lighting
Full heat and sound insulation
Gourmet area at the aft platform
Stainless steel charcoal barbecue
Waste bin
Sink w/ retractable tap
Stainless steel grab handle
Barbecue wooden board
Bathroom
Water tank served by a 1,500-gph bilge pump
Mixer Shower (ready for Boiler) w/ slide bar
Cabinet w/ fitted waste bin
Washbasin w/ waterfall tap
Side porthole, openable
Electric toilet
Cabin
Woodwork side cabinets
Cabin sofa with adjustable seat
Bow bed
Stainless steel cabin accessing staircase
Ceiling hatch, openable
Panoramic windows on the hull
Courtesy lights in the cabin
Panel for TV and DVD mounting
Stainless steel side portholes, openable (3)
Sofa at midship, convertible into a double bed
Large side windows at midship w/ wood finish
Galley
Cabinets w/ drawers and space for refrigerator and microwave oven
Kitchen countertop w/ drainer
Stainless steel tap
Contact Us
Request a free quote. Your dream costs less than you think!