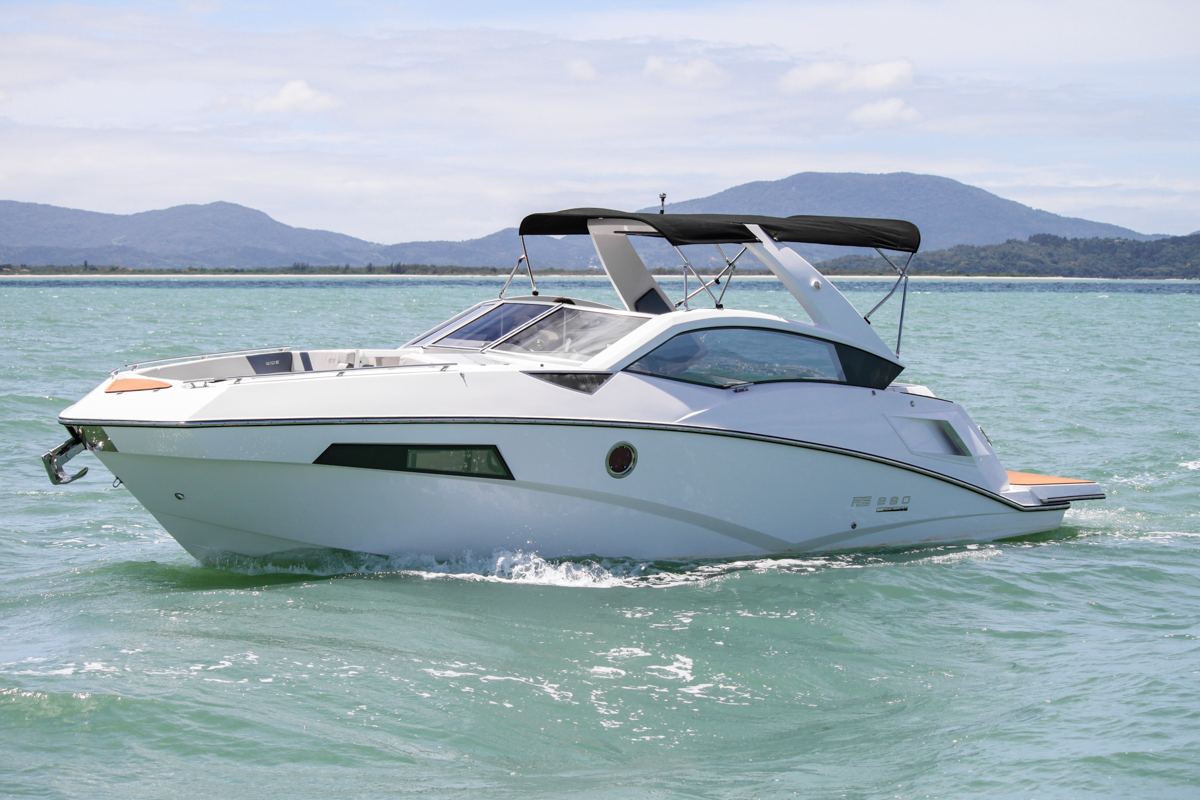 FS 290 Wide
Open bow, cabin, and closed toilet
FS 290 Wide's design can be confusing at first glance because there is no similar watercraft in Brazil. However as you get to know it a little better you will agree that there is probably no other motorboat designed in such a great way for you.
The FS 290 Wide prioritizes the space on board, after all, all of us ride our boats during the daytime, and the greater part of the fun happens in the sun. In order to offer a greater comfort during the outings, the FS 290 Wide features a full bathroom with an electric toilet, a window, a washbasin w/ tap, a shower, and a trash.
And for those late afternoons when your kids want to rest, the closed cabin of the FS 290 Wide offers plenty of space and comfort, having 3 windows to keep the cabin lighted and well vented so that you can keep riding and having fun with your family and friends!
Plenty of space for 14 people
The FS 290 Wide's bow is made to accommodate 5 people, but it comes with cushions that can complement the bow to create 2 side divans, or even a huge sundeck as big as a double bed.
Unlike the other open-bow motorboats, with the FS 290 Wide, you do not need to give up a bathroom or a cabin. In fact, the FS 290 Wide has the largest bathroom of its category and a cabin to envy too many cabin motorboats, with a comfortable bed and 3 windows, which offer your family all the necessary comfort on board.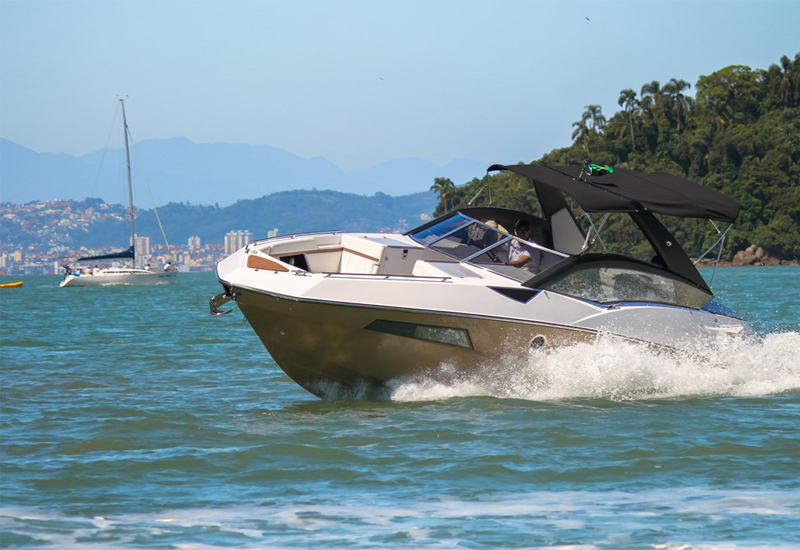 VIDEOS
FS 290 Wide - Presentation
Technical specifications
Category
Boat Type: Open-bow w/ cabin and bathroom
Category Motorboat for recreational use and jaunt
Boatbuilder: FS Yachts
Manufacturing site: Biguaçu – Florianópolis metropolitan area/SC
Engine
Engine type: Sterndrive
Minimum power: 220 HP
Maximum power: 320 HP
Fuel: Gasoline or Diesel
Average fuel consumption at cruising speed: 25 to 40 liters per hour
Dimensions
Length: 8.80 m
Maximum beam/breadth: 2.76 m
Height, on the trailer (tower included): 3.40 m
Draft: 0.60 m
Hull weight, with no engine: 2,000 kg
Ceiling height inside the bathroom: 1.50 m
Ceiling height inside the cabin: 1.50 m
Capacities
Fuel tank capacity: 300 Liters
Freshwater tank capacity: 150 Liters
Passengers, daytime: 1+13 (sheltered waters) or 1+10 (inshore waters)
Passengers, overnight: 2 persons
Estimated fuel consumption of the FS 275 with the most cost-effective engine: MerCruiser 4.5 L, 250 HP (consider that the ideal cruise speed is within 2,500 – 3,500 RPM):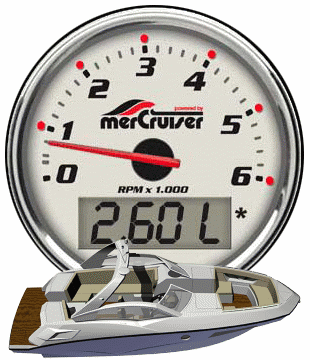 Serial Items
Hull & Deck
Side boxes lined with Deck EVA w/ cup holders, grab handle and space for loudspeakers
Deck table made from teak wood.
Pilot dashboard
Lockers under the cockpit seats
Anchor stowage at the bow
Fiberglass and tempered glass windshield
Swim platform integrated to the deck
Stainless steel cockpit access door
Mirrored, tempered glass at both sides of cockpit
Engine room
Battery compartment
Dinet w/ dampers
Full heat and sound insulation
Hydraulic & Electrical
EVA-coated freshwater external refilling
EVA-coated external refueling
Perko master switches for 2 batteries
Shower at the stern
Light switches on the dashboard
Top light (1)
Courtesy lights in the cockpit
Side navigation lights
Electrical panel and 12-V wiring harness, ready for 110 V
150-liter freshwater tank
250-liter fuel tank
Gourmet area at the platform
PU-coated refrigerator
Trash can
Sink w/ a retractable tap
Grab handle (2)
Lids cushioned w/ leather-like vinyl
Side cabin
Bed w/ leather-like vinyl upholstery
Storage pocket
Side porthole opening to the deck
Stainless steel porthole opening to the sideboard
Glass porthole on the bow, without opening
Bathroom
Water tank served by a 1,500-gph bilge pump
Hygienic hand-held shower
Acrylic trash can
Washbasin w/ a stainless steel tap
Stainless steel side porthole, with opening
Electric toilet
Open bow
5 single seats
2 retractable armrests
Complementary cushions to assemble a sundeck at the bow
Side stereo speakers
Stainless steel guardrail
Cockpit upholstery – Leather-like vinyl w/ mildew protection
Swivel, folding pilot seat
Sofa for 8 people at midship deck
Copilot sundeck w/ folding armrests
Metalware
Stainless steel anchor roller
Stainless steel cleats (6)
Stainless steel 3-step stern ladder
Stainless steel foredeck guardrail
U-Bolts (3)
Stainless steel rub rail
FS 290 WIDE LAUNCHING COVERAGE
"NÁUTICA" MAGAZINE, Edition #315
From the good aft deck to the piloting station, this release of FS Yachts – a shipyard from Santa Catarina – follows the same standard as of the successful FS 290 Concept, which went into the water last year. The cockpit, which can hold 14 people on board, is covered with a Bimini Top, has two sofas, a minibar (with a sink, a cooler, and a trash can), cup holders, speakers, and a side table (which can be placed at the bow).
The pilot's seat is fully adjustable and the steering wheel is retractable. This motorboat's major differential, when compared to the FS 290 Concept, is located just a step ahead the helm station; almost under the bow sofas, there is a small cabin with a translucent lid and endowed with portholes, featuring a bed 1.90 meter long, which allows for a couple's rest, plus a bathroom with an electric toilet, a shower, a washbasin, and a window.
The hexagon-like bow promotes a space gain at the foredeck. And it is interesting to see how – by the placement of cushions – the foredeck can be converted into a sundeck.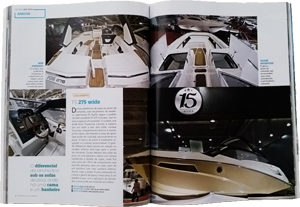 Contact Us
Request a free quote. Your dream costs less than you think!