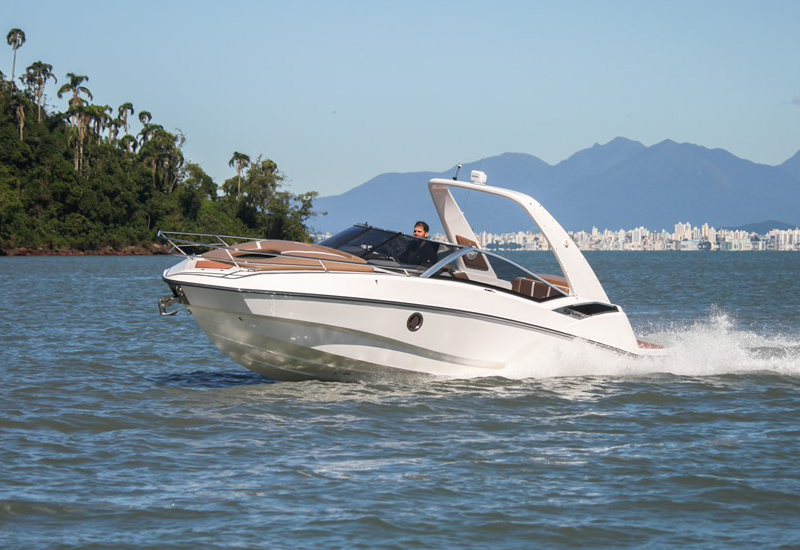 FS 265 Element
Launched in Rio Boat Show
The newest FS Yachts' watercraft, launched during Rio Boat Show, has started to cause
astonishment since its first appearance.
Innovative external design and meticulous interior finish show clearly that the FS 265 Element is here to stay.
A spacious cabin
The 265 Element's cabin has a 1.5-meter ceiling height, a comfortable double berth at the bow – roomier
than the average of its category due to the hexagon-like bow's shape – and a fully equipped bathroom.
The FS 265 Element is a great solution for those in search of a beautiful motorboat with the convenience of
having an enclosed bathroom and on-board overnight stay capability.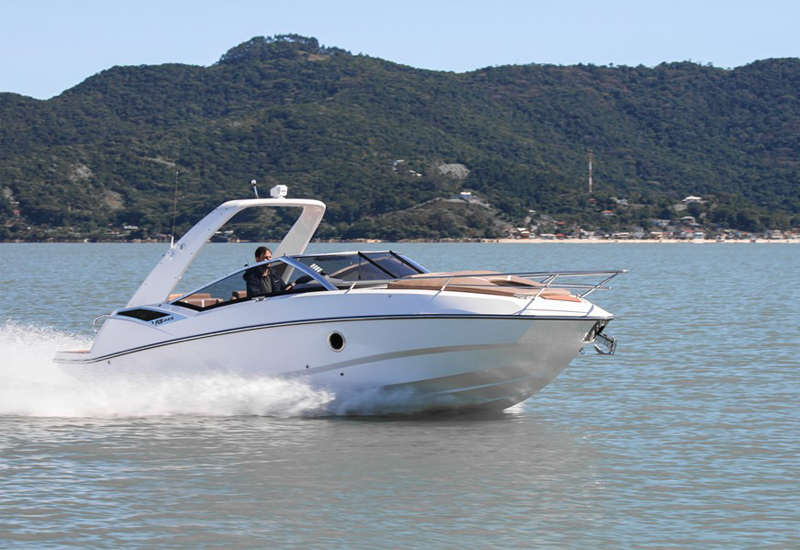 VIDEO
FS 265 Element Launching Coverage
Technical specifications
Category
Boat Type: Cabin motorboat
Category: Motorboat for recreational use and jaunt
Boatbuilder: FS Yachts
Manufacturing site: Biguaçu – Florianópolis metropolitan area – SC
Engine
Engine type: Sterndrive
Minimum power: 170 HP
Maximum power: 320 HP
Fuel: Gasoline or Diesel
Average fuel consumption at cruising speed: 25 to 35 liters per hour
The manufacturer itself has homologated various engines for the FS 265 Element. We suggest that you chose
your boat's engine according to the availability of authorized maintenance workshops in your location
(preferably, an FS Yachts local dealership). Also, have in mind that the engine's power must suit the boat's
intended use (freshwater calls for more power, for example, compared with salt water).
Dimensions
Length: 8.10 m
Maximum beam/breadth: 2.65 m
Height, on the trailer (tower included): 3.30 m
Draft: 0.45 m
Hull weight, with no engine: 1,600 kg
Ceiling height in the cabin: 1.50 m
Capacities
Fuel tank capacity: 200 liters
Freshwater tank capacity: 80 liters
Passengers, daytime: 1 + 11
Passengers, overnight: 2 persons
Estimated fuel consumption of the FS 265 with the most cost-effective engine: MerCruiser 4.5 L, 250
HP (consider that the ideal cruising speed is at 2,500 – 3,500 RPM).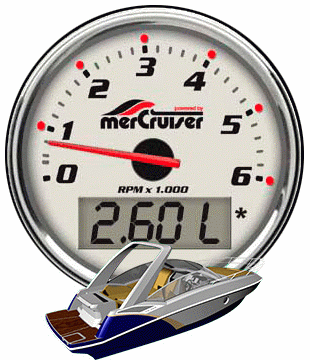 Serial Items
Hull & Deck
Side boxes lined with deck EVA w/ cup holders, grab handle, and loudspeaker housings
Waste bin at the cockpit entrance
Pilot dashboard
Lockers under the cockpit seats
Anchor's stowage at the bow
Aluminum and tempered glass windshield
Swim platform integrated to the deck
Stainless steel cockpit entrance door
Mirrored, tempered glass on both sides of the cockpit
Engine room
Battery compartment
Dinette table w/ dampers
Full heat and sound insulation
Hydraulic & Electrical
External freshwater refilling inlet, EVA-coated
External refueling inlet, EVA-coated
Perko master switches for 2 batteries
Shower at the stern
Light switches on the dashboard
Top light
Courtesy lights in the cockpit
Side navigation lights
Electrical panel and 12-V wiring harness
150-liter freshwater tank
250-liter fuel tank
Gourmet area at aft platform
PU-lined cooler
Sink w/ a retractable faucet
Lids cushioned w/ leather-like vinyl
Place to have a built-in bbq grill
Cabin
Cabin w/ double berth
Stainless steel stairs to reach the cabin
Ceiling hatch, w/ opening
Courtesy lights in the cabin
Wooden sideboard with stowage compartment
Stainless steel side porthole, w/ opening
Galley
Cabinets w/ drawers and clear spaces for refrigerator and microwave oven
Kitchen countertop w/ dish drainer
Waste bin covered with leather-like vinyl
Stainless steel faucet
Bathroom
Wastewater tank w/ 1,500-gph bilge pump
Hygienic hand-held shower
Acrylic trash can
Acrylic washbasin w/ cascade faucet
Side porthole, w/ opening
Manual toilet
METALWARE
Stainless steel anchor roller
Stainless steel cleats (6)
Stainless steel 3-step aft ladder
Stainless steel foredeck guardrail
U-Bolts (3)
Stainless steel rub rail
Cockpit upholstery – Leather-like vinyl w/ mildew protection
Bow cushion
Swivel, retractile pilot seat
Sofa and seats on the deck
Contact Us
Request a free quote. Your dream costs less than you think!