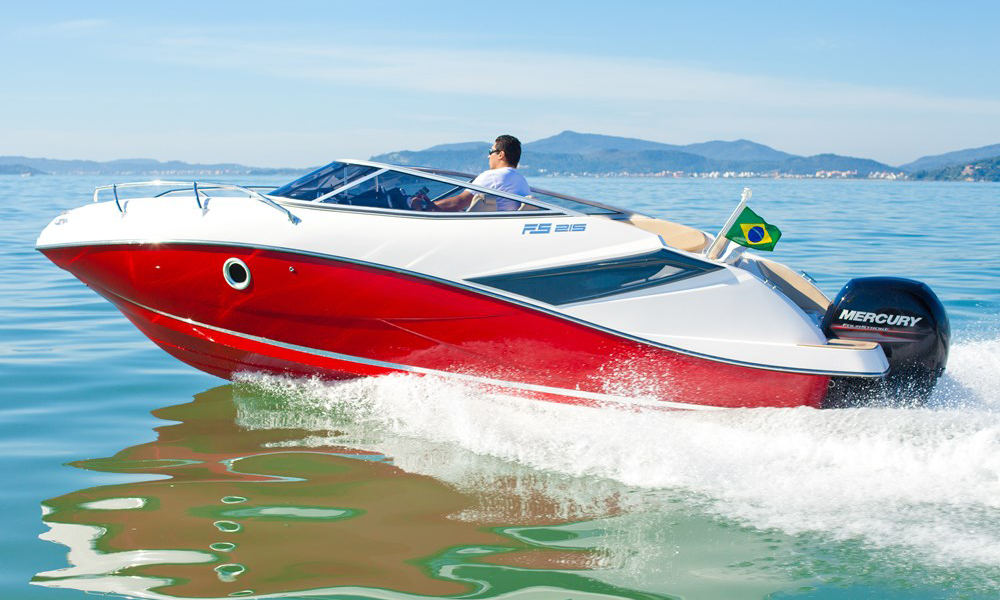 FS 215 Cabin
Your first cabin motorboat
A major advantage of acquiring a boat and joining the nautical world is gathering the family. Therefore, it is important to have a cabin, even in a small motorboat: a bed and a toilet offer the family a space to rest and relax after lunch, for example, and extend the time you can stay on board.
Handling and comfort
FS 215's aggressive hull allows you to face calm waters with speed and troubled waters with safely. The enclosed cabin prevents water from splashing inside while the boat rides; the high freeboard of the boat favors the feeling of comfort and safety of all the people on board.
The FS 215 is a motorboat whose characteristics are ideal for sheltered waters or calm inshore waters, and comfort is guaranteed for the whole family!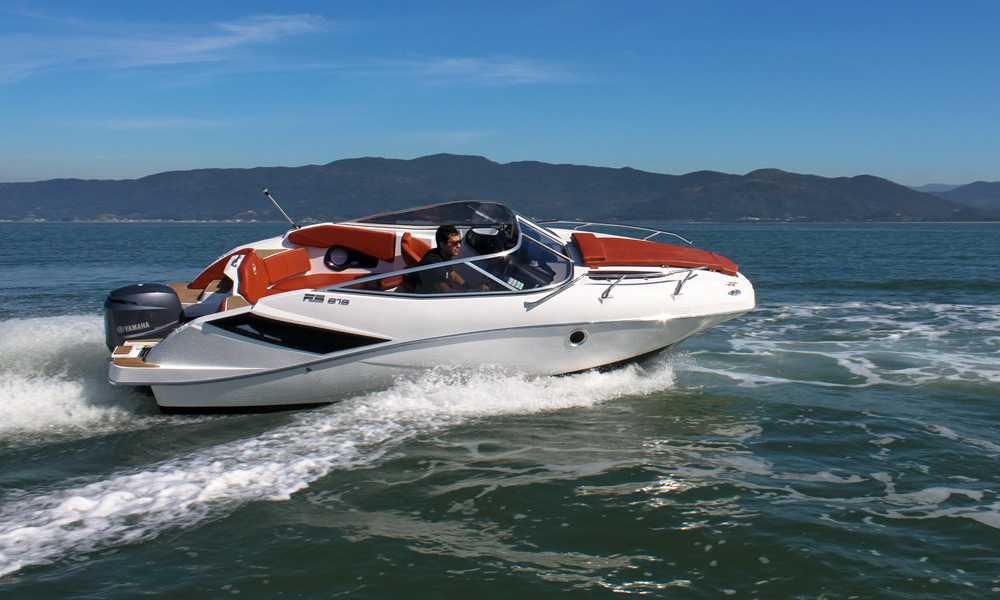 Technical specifications
Category
Boat Type: Cabin motorboat
Category Motorboat for recreational use and jaunt
Shipyard FS Yachts.
Manufacturing site: Biguaçu – Florianópolis metropolitan area/SC
Motorization
Engine type: Outboard
Minimum power: 115hp
Maximum power: 175hp
Fuel: Gasoline, only
Average fuel consumption at cruising speed: 12 to 20 liters per hour
Dimensions
Length: 6,30m
Maximum beam/breadth: 2,32m
Height, on the trailer: 2,40m
Draft: 0,40m
Hull weight, with no engine: 750 kg
Capacities
Fuel tank capacity: 100 Liters
Freshwater tank capacity: 28 Liters
Passengers, daytime: 1 crewman + 7 passengers
Passengers, overnight: 2
Estimated fuel consumption of the FS 215 with the most cost-effective engine Mercury 115-HP (consider that the optimal cruise speed is within 2,500 – 3,500 RPM):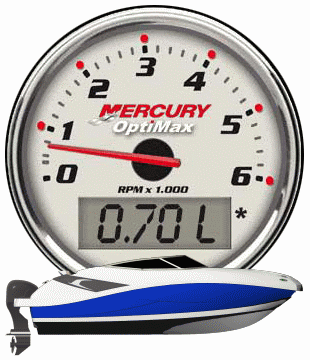 Serial Items
Hull & Deck
Side boxes acoustically prepared for loudspeakers
Copilot console with glove box, washbasin w/ tap, and space for MP3 audio player
Pilot dashboard
Lockers under the cockpit seats
Anchor stowage at the bow
Aluminum and tempered glass windshield
Cup holders (4)
Cabin & Head
Side portholes, round shape, w/ opening (2)
Ceiling hatches, w/ opening (2)
Mattress and a double bed in the cabin
Bed's additional modules
Sofa backrest w/ storage pocket
Manual toilet in the cabin
Metalware
Stainless steel cleats (4)
Stainless steel 3-step stern ladder
Grab handle at the stern ladder
Stainless steel foredeck guardrail
U-Bolts (3)
Anodized aluminum rub rail
Cockpit upholstery – Leather-like vinyl w/ mildew protection
Swivel copilot seat
Swivel, folding pilot seat
Backrest on the ladder to the deck
4-seat sofa at the stern
Folding aft sundeck, with 3 positioning options: backrest, sun lounger, and sundeck
Hydraulic & Electrical
External refueling
Shower at the stern
Light switches on the dashboard
Top light (1)
Navigation lights at the bow (2)
Electrical panel and 12-V wiring harness
Washbasin w/ tap in the copilot console
28-liter freshwater tank
100-liter fuel tank
FS 205 / FS 215 TEST
"NÁUTICA" MAGAZINE
"A small boat, a great project."
Main differentials:
Hexagon-like bow, which enlarges space
Cabin with bed and toilet
Modern and bold design·S construction
FS Yachts shipyard is one more (good) Brazilian manufacturer of fiberglass boats in Santa Catarina state. Its hulls are designed with creativity and daring, to people with a young profile that greatly values a nice look when choosing a boat. By following this recipe, FS has already delivered over 1,300 hulls, among which are forty FS 215, a beautiful, small closed-bow motorboat, with a small cabin and a double berth, launched in the last Rio Boat Show.
Besides the good quality of construction, another highlight of this 21.5-foot boat is the very modern design of its hull. Its polygonal foredeck is wider than usual, which considerably enlarges the usable area in the front deck. And there are beautiful, stylized air inlets on the sides, which are however faux since the boat uses an outboard engine.
Its ride is also quite pleasing, mainly due to the hull shape and the freeboard height, which offer much safety on rougher waters. However, we have tested an over-motorized unit, equipped with the new Mercury 150-HP, four-stroke, electronic fuel injection, a great engine, but excessively powerful for such a small boat. The ideal engine – suggested by both the shipyard and this magazine – would be an 115-HP engine, as the Mercury Optimax, not only for offering a better price and lower fuel consumption but also for making the rides much more pleasant since the handling becomes smoother.
"The FS 215 derives from the model FS 205, but it has a cabin, an extended stern, and the same bold look."
A GOOD HULL
One of the best features of this cuddy cabin is the hull itself, which rides really well. Hard chines make the ride firm and stable, even in the sharpest turns at high speed.
LARGER STERN
The aft platform gained extensions at both sides of the engine, which serve both for improving passengers boarding and enlarging the boat size itself, and allows two extra seats with backrests facing backward.
WASHBASIN AND GLOVE BOX
The seats of the pilot and copilot are swivel and height-adjustable, which are rare on boats of such a size. There is a small washbasin next to the glove compartment.
THE INSIDE
The hexagon-like bow, by enlarging the usable space in this boat part, admits a double bed of an acceptable size, with a toilet fitted – and hidden – under it. The natural lighting and ventilation, in turn, come from two side portholes and two quite modern hatches on the ceiling.
THREE POSITIONS
The backrest of the stern sofa can be adjusted at two positions in addition to the original one: at a 45-degree angle, for people to recline their back, or fully horizontal, thus forming an interesting little sundeck.
OPEN ROOM
The pilot's seat and the companion's seat are both swivel, and the stern sofa's backrest is foldable.
HOW IT LOOKS
The FS 215 is one of the smallest cubby cabin manufactured in Brazil, but it competes with similar national boats that also enjoy a good reputation in the market. The difference is that the FS 215 seeks to stand out by its nice look and, in fact, it is quite appealing. It is innovative and bold, but not excessive.
Its design follows the recent trends to straighter lines, as in the hexagon-like bow itself, which is, by the way, an unprecedented feature on motorboats of this size in Brazil. In fact, the FS 215 is only a slightly "stretched" version of the model FS 205; it has been enlarged by means of two small aft platforms that extend to both sides of the engine, but with interesting backrests facing backward for those who want to stay right close to the water when the boat is not moving. It is a good idea inspired by the wakeboard motorboats, which also offer this type of seat for those who want to follow the skier maneuvers.
The proposal of this small motorboat is also to serve the purpose of couples that seek to spend one night on board, but not demanding too much comfort since the cabin isn't high enough, although it is well ventilated through two interesting hatches of unprecedented shape on the ceiling.
The construction and assembly quality of this boat are above the average, even for a motorboat that is reaching the market under a strong competition.
"The FS 215 is innovative. Its lines are straighter and its foredeck has a hexagon-like shape, an unprecedented feature on motorboats of its size in Brazil."
HOW IT RIDES
In spite of the cloudy and rainy day, we tested the FS 215 without winds and on a quite calm sea. Under such conditions, we could accelerate enough and feel the effects of the – even excessive – power at the stern. The boat did better than expected. Its ride proved to be quite firm and the hull virtually did not heel, even in the sharpest turns. Also, it crossed the wakes from other boats without bumping hard and kept stable even when a maximum speed of almost 40 knots was reached. This is a direct result of the good hull bottom design with a sharp V shape ranging from an 18-degree deadrise at the stern and 25 degrees at the bow.
Other features that helped performance and ensured this motorboat optimum stability are both the hard chine – meaning the sides and bottom of the hull join at a sharp angle – and the well-distributed hull weight.
With the tested engine, the performance marks proved to be exciting as expected, yet too much aggressive for those who just want to ride with their families. And still, with such an excessive power, an inexperienced pilot can even put safety at risk.
HOW WE TESTED IT
WHERE: WHERE: on the sea that surrounds Santa Catarina Island
CONDITIONS: 4-knot winds and smooth water
ON BOARD: 1 person, 80 liters of fuel, and 20 liters of water
MOTORIZATION: an outboard engine Mercury 150-HP, four-stroke, electronic fuel injection; a stainless steel propeller model Mirage Plus I pace 19" and a transmission ratio of 19.2:1.
Summary
COCKPIT
The cockpit is one of the greatest highlights. Comfortable and well finished, it has swivel seats, a sofa at the stern that turns to a sundeck, and seats at the stern that face backward.
PERFORMANCE
With a 150-HP outboard engine, it took only 4.5 seconds to reach 20 knots and the maximum reached speed was 39.3 knots. At cruise, it reached 34.3 knots, though with a restricted range: 77 miles.
CONSTRUCTION
Solid, manually laminated fiberglass, except for the transom, which has a marine plywood core. The frame has two stringers and four bulkheads.
ELECTRICAL
The electrical wiring is tinned only at the connections, but it is well installed and coded. The battery is located next to the engine, but it is unprotected from the water.
Metalware
The stainless steel parts are proper for boats. The cleats (2 at the bow and 2 at the stern) are of suitable size.
HIGHLIGHTS:
It rides firmly, with virtually no heeling
Modern and dashing design
Well worked out cockpit
Contact Us
Request a free quote. Your dream costs less than you think!