1. First place
FS Yachts received from Volvo Penta the award of the highest seller of gasoline engines in Brazil, thanks to the huge acceptance of the FS launches throughout the country.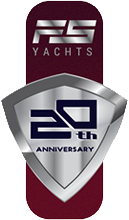 2. 20 years of tradition
Since 1998, the FS Yachts shipyard has been offering different boats for its design, which are pleasing for its innovations, in the endless search for the highest satisfaction of its customers.
3. Design and Innovation
The FS launches are designed by internationally renowned shipbuilders and engineers, who follow FS principles in not seeking inspiration from what already exists, but which create trends with bold design and intelligent solutions of the FS boats.
4. Quality and Finishing
Since its founding the FS shipyard has been looking for continuous quality improvements in its projects and processes. The result is clear: FS has more than 95% satisfaction among its customers.
5. Certified Manufacturing
FS vessels follow US and European shipbuilding standards in all stages of the production process, guaranteeing our client a vessel of international quality.
6. High liquidity and resale value
There are more than 3,000 FS launches sailing around the world. The market value of a FS remains well above the national average and other shipyards, due to the great acceptance of the brand.
7. From Brasil to the world
FS launches are exported to Asia, the Middle East and Europe, and are positioned among the most accepted vessels in the world in several countries.
8. Navigability and Security
Helmets designed by experienced engineers, with hydrodynamic and rolled tests impeccably could only result in comfortable and safe navigation, whether in sheltered or turbulent waters.
9. National Service
FS Yachts dealers across the country are ready to serve you exclusively, with boats on display and test-drive, to show you what FS have the best.
10. Quality Assurance
Assuming that our boats are state of the art products with high quality manufacturing, our boats have up to 5 years guarantee against structure faults and 6 months for peripherals.